---
November VRM Monthly Marketing Planner and Free Desktop Wallpaper Calendars
Posted On Saturday, October 31, 2020
---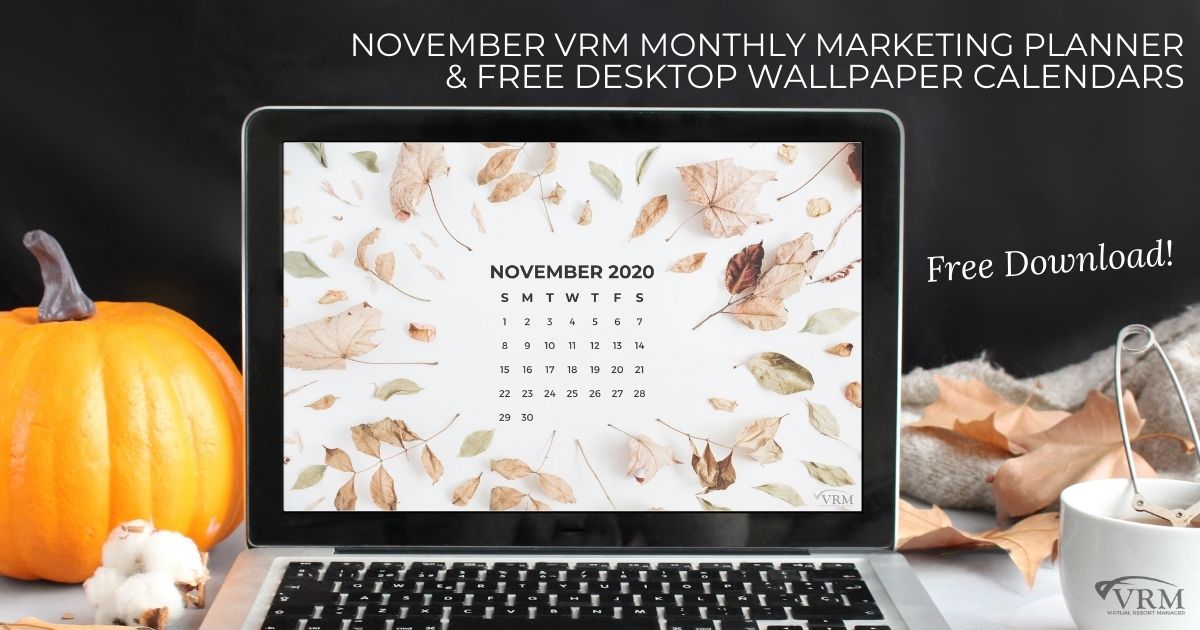 Well folks, we have made it to month number eleven out of twelve in 2020. The air has turned a little cooler. Leaves are falling. Thanksgiving plans are being made. Excitement builds as we turn the corner into the holiday season.
More than anything, this lovely time of year brings a renewed sense of gratitude. Here at Virtual Resort Manager, we are beyond thankful to be your vacation rental software provider... and your friend. It is truly an honor to do business with you, your company, and your employees.
We are grateful for the fifteen plus years that VRM has had the pleasure to serve the vacation rental industry... and we are humbled by the fact that many of original clients are still with us today.
This month, our free desktop wallpaper calendar and marketing tips will "leaf" you feeling the magic of fall. Be sure to check out our FREE motivational fall quotes. You are welcome to use these on your social media!
November Dates to Remember
November 7 — Book Lovers Day
November 11 — Veterans Day

November 17 — Take a Hike Day

November 26 — Thanksgiving Day

November 27 — Black Friday
Social Media Tips
Have you released 2021 dates for booking? When you do.... make it into a celebration! Invite families to start planning their 2021 vacations early. Education your guest on your cancellation and cleaning policies so they can book with confidence. Be sure to advertise your 2021 bookings on social media also. (Party hats and streamers are optional... but highly encouraged! Make it fun!!)
Book Lovers Day - This is a great opportunity for social media engagement and to highlight local authors. Do you have a blog post about the "best beach reads"? Be sure to share it on social. You can also ask your audience to comment on a social post by asking them a question. "What is your favorite book of all times?" Or, "Are you a book lover? Yes or No."
Veteran Day - Take time to honor veterans and to highlight any active duty or retired military discounts that you offer.
Take a Hike Day - One of the reasons why you are a vacation destination is because of the amazing outdoors that surround you! Whether you are situated in the picturesque mountains, rolling plains, or breathtaking beaches, there are surely hikes worth taking! Encourage people to get outside and enjoy the natural beauty that makes your area so special. Provide links to hiking trail maps, blogs about hiking, etc.
Thanksgiving - Be sure to let your guests and owners know how thankful you are for them. Send out an email with a personal message from your staff, general manager, and/or owner. Don't ask anything in return (no properties to click on or specials offered). Just say "thank you". A video message is also a wonderful idea! Post that same message to your social media.
Black Friday - Consider having a Black Friday Sale. If you have a lot of availability for the winter, this may be a good opportunity to fill those gaps.
Set Expectation - Use social media to continually update your guests on what you are doing as a company to help people stay safe during this season... while still enjoying a vacation. Social media is also a good place to set expectations. Let your guests and future guests know what to except when they book with you and when they visit your area. In addition to Covid-19 information, you can update your audience about local seasonal closings, weather, etc.
SEO Tips
The 2020 holiday season is here and has introduced a new wave of uncertainties. Traditions we practice across all cultures will be heavily affected due to the pandemic. During this time, being "creative" has become a must for marketing your business. However, on a slightly brighter note, new territory for search engine optimization is actually good for SEO. This is due to the fact that society is introducing "new content" to the search engine arena.
Instead of marketing for holiday promotions that traditionally stay fairly the same each year, you are likely making lots of "Covid-conscious" adjustments for compliance and to help keep your community safer.
Below are some 2020 Holiday SEO Tips to help you navigate through unchartered territory:
Holiday content (blog posts, new website pages, updated website pages) you publish this year may have a much higher chance to rank quickly in your community as people are searching for new holiday information.
Stay abreast of state and county Covid guidelines. Use this information to enhance your promotions and/or content. Be sure to consistently update your content online... making it easy for guests to find the information they are searching for. Moreover, add "UPDATE" and date, to the top of your content so it is easily found.
Be transparent and as specific as possible about the Covid-conscious changes and precautions you are taking to help sooth guests concerns.
Try to have a virtual/live Zoom or Social Media presence so others at home can take part in enjoying your vacation destination.
Publish your content to as many online outlets as you can. Paid advertising will likely not be necessary.
If you found helpful information related to your promotion or content from other businesses or outlets, be proactive and link to them to encourage distribution of truthful and helpful information.
Check with your reservation team regularly to find out what questions your guests and potential guests are asking. Turn that into searchable content that can live on your website or used as a reference tool. If people are asking the same question over and over again, write it out as a blog post or as an update on one of website pages. In the event your guests don't find that info online, you at least now have it so that your reservation team send it out as a link.
Just remember, search engine information has become what it is today from endless contributions throughout the world. You are on the frontlines, therefore you are the content pioneers of this season! Be proactive, be transparent, and most importantly, BE SAFE!

Leave no leave unturned in your social media! Be sure to share these FREE quotes with your audience. Quotes, in general, are great. Fall quotes, however, are beauty in and of their own.
Directions
Click on each quote to open it in a new tab at full size (1080 x 1080) and then right click and choose "Save Image As..." from the drop-down menu!
Free Desktop Wallpaper Calendars
Let this FREE desktop wallpaper calendar adorn your computer for November 2020. Can't you just hear the leaves crunching under your feet and the scent of warm apple cider in the air?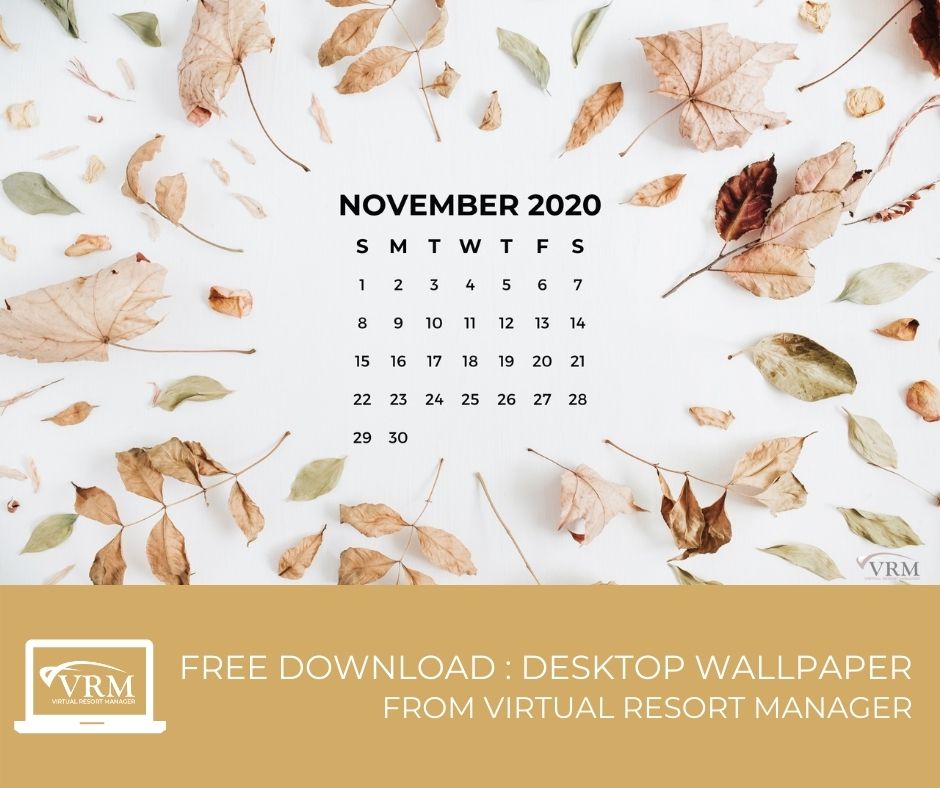 Directions
Click on the image above or below to open the wallpapers in a new tab at full-size (2560 × 1600), and then right click and choose "Save Image As..." from the drop-down menu, and save it. Each major operating system has a different procedure for changing the wallpaper.
Mac Users
After saving the image of your choice, choose Apple menu  > System Preferences. Click Desktop & Screen Saver. From the Desktop pane, select a folder of images on the left, then click an image on the right to change your desktop picture.
Window Users
Locate the image you want to become your wallpaper and open it. (By default, it will open up in Photos.) Right-click or tap-and-hold it to choose either Set as > Set as background or, in older versions of Windows, set as desktop background.
If you're having trouble just Google "how to change the desktop wallpaper on a ________" and enter the operating system you're using!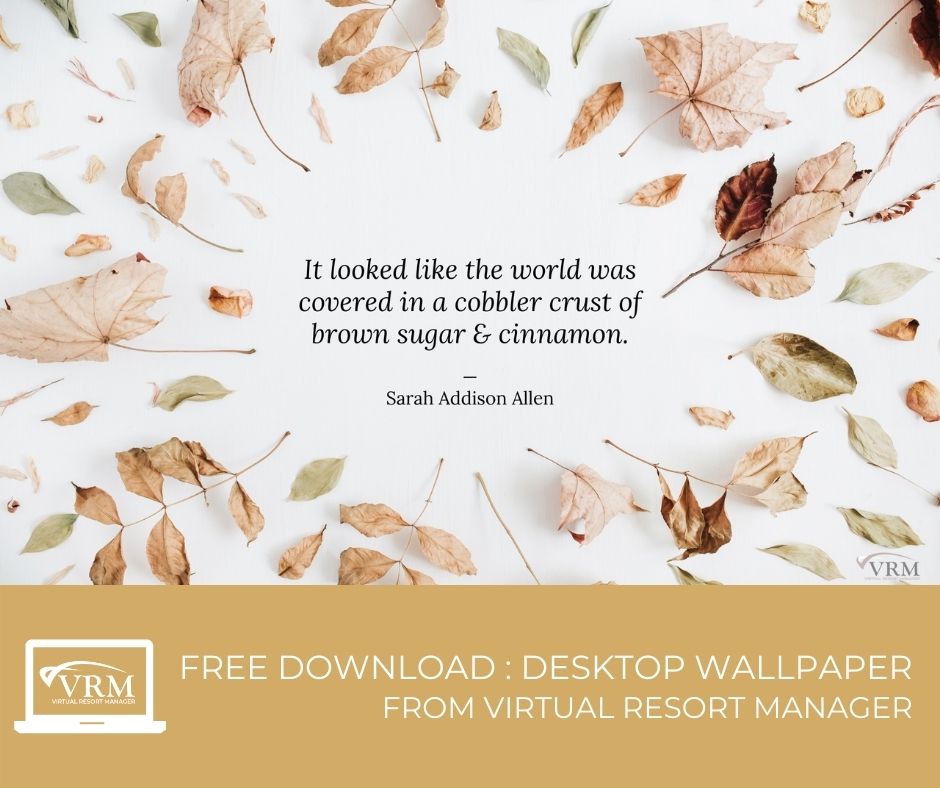 Don't forget to check back next month for our new wallpapers, tips, & shareable quotes!
FUN & FREE!
Downloads, Quote Graphics, and Marketing Tips. Pin for later!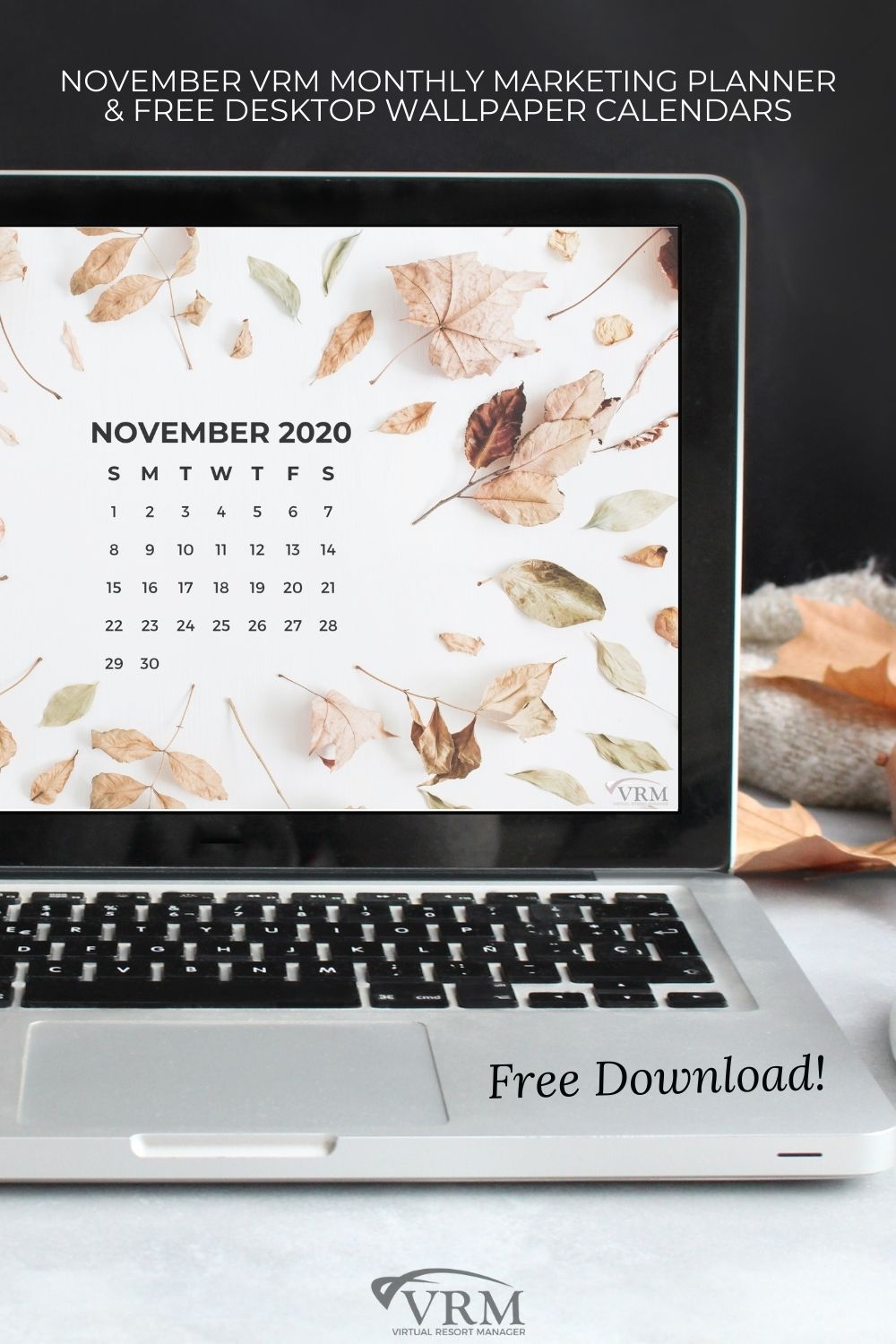 Comment on this post!