Join Us Each Month for VRM Insider,
Our Exclusive Webinar Series
Each month, VRM hosts a webinar that will help you get to know us a little better and provide you with insider information. These real estate marketing webinars for the vacation rental industry are designed just for you. We will give you an in-depth look at VRM software, industry trends, and more. If you are currently a VRM client, a VRM partner or a potential client, you can sign up for these webisodes using the "Register Here" link below. The best part about VRM Insider is that it is FREE!
During our webinars, we will answer questions such as:

What tools are provided by VRM to their clients, and how do I use them to make my life easier?
What are some of the latest trends in the vacation rental industry?
What are some effective business and management tips from industry professionals?
How can I effectively market my business without wasting my time and energy?
VRM Insider Dates & Topics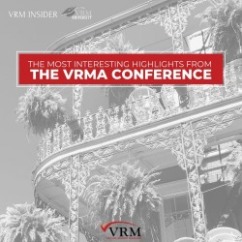 VRM Insider: The Most Interesting Highlights from the VRMA Conference
This month we will bring you our key takeaways from the VRMA International Conference (New Orleans). Several VRM employees join in the conversation as we talk through this year's industry highlights.
Watch the Recap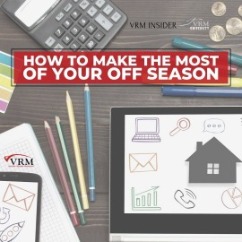 VRM Insider: How to Make the Most of Your Off Season
Get tips and tricks on how to make the most of your off season. In our September VRM Insider, we went "Back-to-School". Watch the recap to learn from a few of the VRM "teachers" who will guide you through several simple things that your company can do to be prepared and improved for next year!
Watch the Recap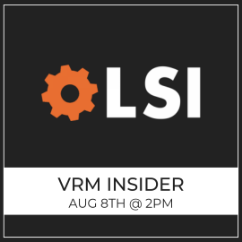 Vacation Rental Tools That Will Change the Way You Do Business
LSI shares with you how their vacation rental tools can change the way you do business by saving hours of time and countless dollars on your everyday tasks. From detailed weekly housekeeping scheduling to online guest contracts and guest or owner communications, every aspect of your company can be streamlined with LSI Tools.
Watch the Recap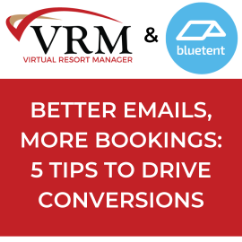 Better Emails, More Bookings: 5 Tips to Drive Conversions
Use Password: vrm&bluetent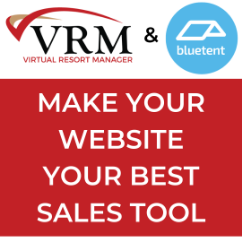 Make Your Website Your Best Sales Tool
See how Bluetent's Rezfusion platform can turn the property data from your VRM software into a beautiful, high-performance direct booking website.

Use Password: vrm&bluetent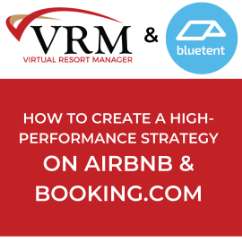 How to Create a High-Performance Strategy on Airbnb & Booking.com
This webinar features Rezfusion Boost, Bluetent's superior channel management solution. Join us to learn how Boost puts you at the controls of the most advanced pricing and listing tools, empowering you to grow your revenue – and your brand – on Airbnb and Booking.com.
Use Password: vrm&bluetent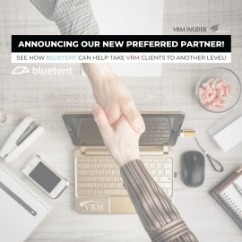 Announcing Our New Preferred Partner:
See How Bluetent Can Help Take VRM Clients to Another Level
New Opportunities from VRM and Bluetent! VRM and Bluetent are joining forces to offer you the very best ecommerce toolkit – empowering you to stay competitive and drive more bookings. In this first installment of our collaborative four-part webinar series, you'll learn how having fully integrated website, email, and channel management solutions will take your online business to new heights. Our discussion will be packed with valuable insights … and the chance to win a Yeti cooler. We hope you'll join us!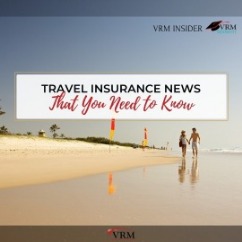 Travel Insurance News That You Need to Know from Rental Guardian
This month on VRM Insider we received travel insurance tips and tricks from John Slaughter at Rental Guardian. Not only did we learn that Rental Guardian is more than just travel insurance, we heard how they can help put the vacation rental manager in the drivers seat for damage protection! Take time to watch the webinar replay below and be on your way to enhanced protection for you, your guest, and your owner.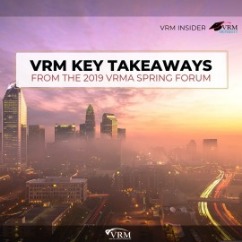 VRM's Key Take-Aways From the 2019 VRMA Spring Forum
Join VRM's team as they discuss the highlights of the VRMA Spring Forum. If you were not able to attend the conference, which was held in Charlotte, NC, then this hour of key take-aways and more is for you. We took notes for you and relaied them on April's VRM Insider!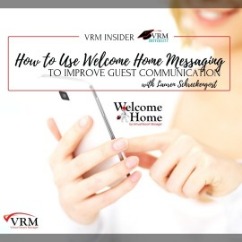 How to Use Welcome Home Messaging with Lauren Schreckengost
Busy season is just around the corner. Be prepared to improve guest communication after you learn more about Welcome Home Messaging in March's VRM Insider. Lauren Schreckengost, from VRM's Training and Support Team, will walk you through how to use messaging to have better communication with your guests.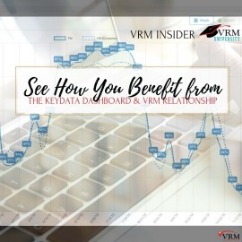 See How You Benefit From the Key Data Dashboard and VRM Relationship
Overview: In this real estate webinar series designed specifically for the travel industry, we are exploring those questions and more with Key Data Dashboard.
This Business Intelligence tool was developed for vacation rental managers by vacation rental managers. The Key Data Dashboard owners have experienced each of the above challenges and have found a solution with their benchmarking tool that provides clear, easy to understand visibility into all the core performance metrics that drive your vacation rental business.
Hold onto your hats as we dive into a live presentation with Key Data Dashboard's CEO, Jason Sprenkle.