---
Leveraging VRM for Best Practices on Your Direct Booking Website
Posted On Friday, May 5, 2023
---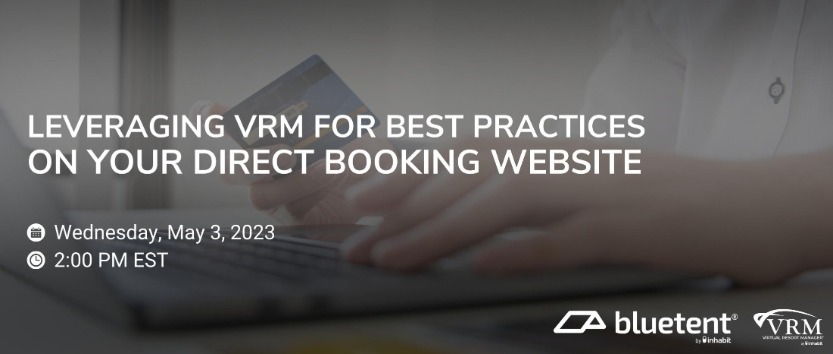 Is your direct booking website maximizing all its potential using the features available within the VRM software? We partnered with the digital marketing and website experts at Bluetent who helped us dive into the most critical features within the VRM platform that you should optimize to improve website user experience, increase conversions, and ultimately drive direct bookings!
In this webinar, VRM's Ondrea Valenzuela and Megan Vangelist are joined by Robyn Scott and Kara Kacmarcik from Bluetent. Check out what happens when our vacation rental software experts join forces with industry marketing professionals!
What to Expect from This Webinar
Watch to learn why a direct booking website is important and which optimization strategies to consider.
Important features to optimize on your website:
Optimal property titles​

Keyword dense property descriptions​

Image quality and order of images​

Amenities – clean and organized​

Landing page creation​

Availability calendar​

Email integrations & opportunities
You can learn this and so much more from your friends at Bluetent and VRM. As your vacation rental software provider, we aim to keep you up to date on all the latest search engine optimization (SEO) and marketing strategies. We want to help you grown your business and stand out from the competition. We also want to see you get the most out of your VRM software.
Learn More About Direct Booking Websites
Are ready to learn more about direct booking websites, updating your current website, or taking your email marketing to the next level? Our friends at Bluetent can make that happen! Connect with them ASAP for a one-on-one chat about their professional marketing services that are specific to the vacation rental management industry. Be sure to tell them VRM sent you.
Comment on this post!