---
How to Schedule Facebook Shares to Skyrocket Your Reach
Posted On Friday, May 4, 2018
---
As a vacation rental management business, part of your marketing strategy is to get your brand in front of as many people as possible. One of the easiest ways that you can do that is by creating your own content for social media or by sharing someone else's content to your social media channels.
Today, Virtual Resort Manager is going above and beyond our vacation rental management software duties, and we are offering you some FREE marketing advice.
At a recent VRM-U LIVE event, we received multiple questions about how to maximize Facebook efforts. We heard your questions, and we are answering those questions with a quick and easy tutorial that you can start using today!
Scheduling Shares on Facebook
If you are ready to SKYROCKET your reach on social media, then follow this expert marketing advice from VRM's very own Brittany Thompson. As a social media marketing maven, Brittany is dishing out some great tips and tricks on how to properly schedule Facebook shares. And the best part... this posting method is completely FREE and easy to use.
The Right Way to Social Share
Did you know that there is a "wrong" way to share social media content that you have found on other peoples Facebook page? Be sure to not only share the content, but to include your own thoughts about that content and how it relates to you or your audience.
Follow the steps that have been explained in the above video, and you are well on your way to offering your audience great content... that you didn't have to create yourself.
It should go without saying that you want to be sure to share content that is relevant to your audience and has proven engagement. Check to see how many likes and shares a post has before you decide to share it on your Facebook page. Another thing to keep in mind is the reputation of the originating source. Click on their Facebook page, and be sure that you want your business associated with theirs.
As your vacation rental management software provider and exclusive Marketing Service, we want to encourage you to stay away from questionable sources and content. Maintain a professional, fun, and family-friendly environment both online and off.
When you combine these social media marketing techniques with your original content, you are well on your way to marketing success.
Homework
Now that you know how to schedule shares on Facebook, it is time to practice! Go to the VRM Facebook page, and find one of our beautiful quotes to share. Ready, set, go!
Bonus
TIP: Be sure to monitor your Facebook page regularly to like comments, reply to comments, and reply to messages. Social engagement is crucial to your social media strategy.
Did you find this information helpful?
Pin this blog and share it on social media!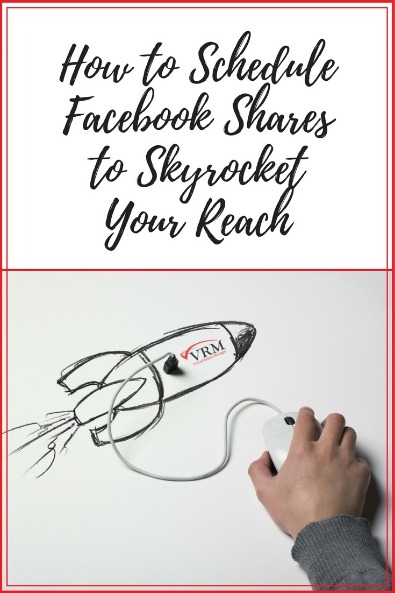 Comment on this post!