---
How to Pack Lunches That Are Perfect for the Office
Posted On Friday, August 31, 2018
---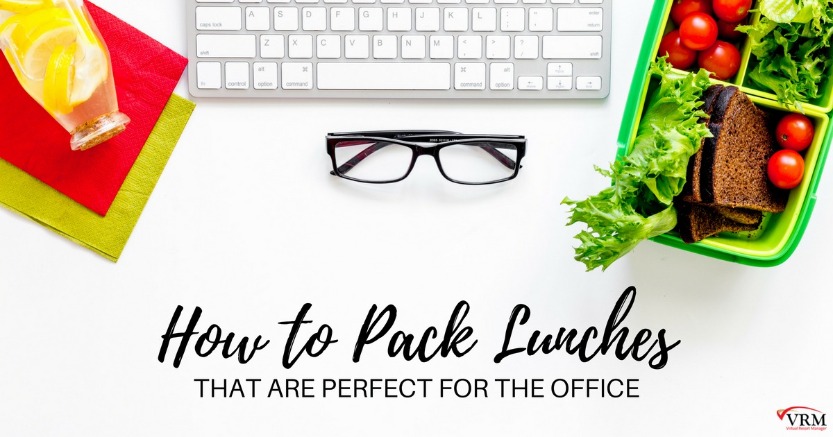 Here at Virtual Resort Manager, our vacation rental software clients come in all shapes and sizes. However, one thing that most of you have in common is that you each have a physical office space where you spend most of your day. Another common factor is that during the course of each work day, we all have to eat. Right?
Lunchtime is just as important for those of you in the office as it is for anyone else. Your body needs fuel to stay alert and focused on your daily tasks. If your job includes guest interaction or customer services, then you also need healthy food choices that keep you on your toes and foster a positive attitude.
Many people opt to eat out during their lunch hour, which not only can be costly, but also gives opportunity to make unhealthy lunch picks. To help our clients stay fueled up for a day full of health, productivity, and positive thinking, we have rounded up eight great choices for adult lunches that you are sure to love.
Great Cold Lunches
The classic ham and cheese sandwich is a wonderful example of the quintessential cold lunch. However, sandwiches can get boring and are not always the most healthy option when packing a lunch. Check out these two great choices that will have your office mates drooling.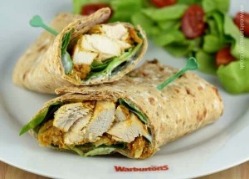 Chicken Tikka Onion Bhaji Wraps
For those with an adventurous spirit who love to try new things, this wrap is perfect for you. If words like "curry" or "mango chutney" make your socks go up and down, then you are going to want to check out this delicious recipe from Eats Amazing.
The recipe is written by a UK based blogger, but it should be easy enough for anyone to convert oven temps. If you can't find the exact wraps mentioned in the blog, choose your favorite flatbread or wrap.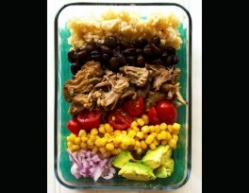 Carnitas Lunch Bowls
These Carnitas Lunch Bowls are the perfect lunchtime meal. One thing that makes them great is you can customize them anyway you please. If there is an ingredient you would rather substitute, go for it! You can also make these with chicken, pulled pork or even meatless, if you choose.
For this version of Carnitas Lunch Bowls, A Wicked Whisk offers a recipe for Mexican Pork Carnitas. It takes a little time in your oven, then all you have left to do is boil up some brown rice, open a few cans of beans and corn and chop up a bit of veg and you are in business. This is a great meal prep recipe!
Packed Lunches That Need Reheating
Not every packed lunch has to be cold. In fact, there are tons of recipes and ideas out there for lunches that are just as warm and inviting as a home-cooked dinner. Here are two such recipes that you can try for yourself.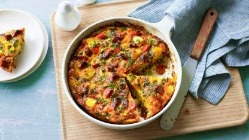 Lunchbox Chorizo Frittata
Here is another international recipe that is sure to please! A thick slice of Spanish omelette, packed with chorizo, peas and potatoes, this frittata can be enjoyed hot or cold. This Lunchbox Chorizo Frittata is sure to tickle your tastebuds.
Keep a few slices handy in the fridge for lunches or a speedy midweek dinner. Frittatas are also great for using up ingredients in your fridge. You can't go wrong.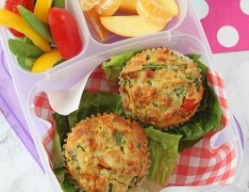 Spinach & Cheese Savory Lunchbox Muffins
These delicious savory muffins, from My Fussy Eater, are packed full of vegetables like spinach and peppers. They are perfect for lunch or an afternoon snack.
Two awesome things about these muffins... you can pack any amount you want and they can be frozen!
If you are the kind of person who doesn't like eating the same thing everyday, this recipe is perfect for you! Just pop the leftovers in the freezer and save for another day. You can also switch up the side dishes that you pack with your muffins.
Lunches That Are Perfect For Nibbling
Are there days where you have to work through lunch, and you need something that you can nibble on at your desk? Are you the kind of person that prefers to nibble than to sit down to a large lunch? If you answered yes to either of those questions, then these lunch ideas are just right for you.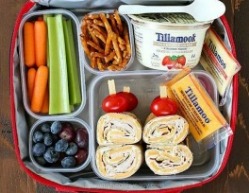 Creamy Turkey Pinwheels
This great lunch idea may be for Creamy Turkey Pinwheels, but just look at all that lunchbox goodness! You could nibble for hours on this packed lunch.
Made with whole wheat tortillas, cheddar cheese, green chiles, cream cheese, and turkey, these pinwheels pack a flavorful punch. Paired with blueberries, carrot and celery sticks, pretzels, yogurt, and individually wrapped cheese, this lunchbox gets an A+!
What other sensation sides would you add to maximize the nibble factor?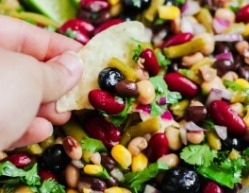 Blueberry Five Bean Salad
This Blueberry Five Bean Salad makes a light, healthy lunch or crowd-pleasing appetizer when served with chips! It's full of fiber, plant-based protein and has a flavorful antioxidant-infused berry dressing.
With a small bowl of this salad and a handful of tortilla chips, you could nibble for hours!
Another bonus is that this recipe is very easy to make. You could literally make it at work. Just remember to bring a can opener, and be prepared to share.
Dinners That Make Great Leftovers for Lunch
There are two kinds of people... those who love leftovers and those who don't. If your mouth starts to water at the word "leftovers", then here are a few ideas that you don't want to miss. These recipes are great for dinner and then keep on giving at lunchtime!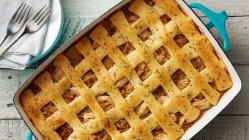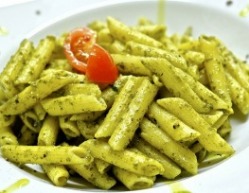 Pasta
Almost all pasta dishes make great leftovers. In fact, many pasta dishes are better the next day. Take advantage of pasta perfection, and pack up a bowl full of leftovers for your lunch.
Click here to see 19 Healthy One Pot Pasta Recipes from Sweet Peas and Saffron. With so many choices, you are sure to find one that is just right for your family dinner and for your lunch.
Now that you have awesome lunch ideas, it is time to get packing. Don't forget to find a well insulated lunch box and small containers with lids to aide in your lunch prep. A reusable water bottle is also a way to go green and save money.
Remember, when possible, step away from your desk and our first-class vacation rental software... and take a well deserved lunch break!
If you liked this blog post, you may also enjoy How to Stay Healthy at Your Desk Job.
Do you have other lunch idea that are perfect for the office? We would love to hear about them. Leave us a comment below.
Don't forget to Pin these awesome recipes!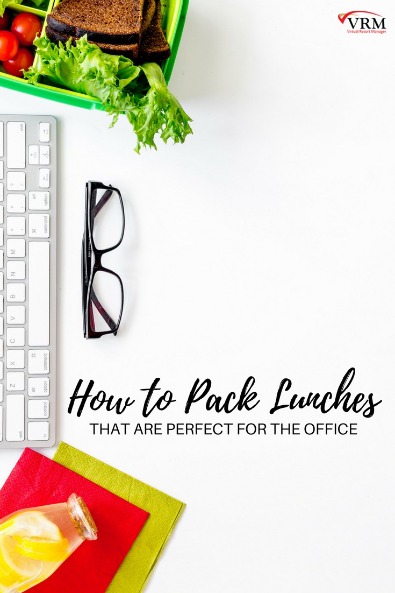 Comment on this post!