---
How to Set Up the Perfect Money Making Email Campaign (in under an hour!)
Posted On Friday, June 22, 2018
---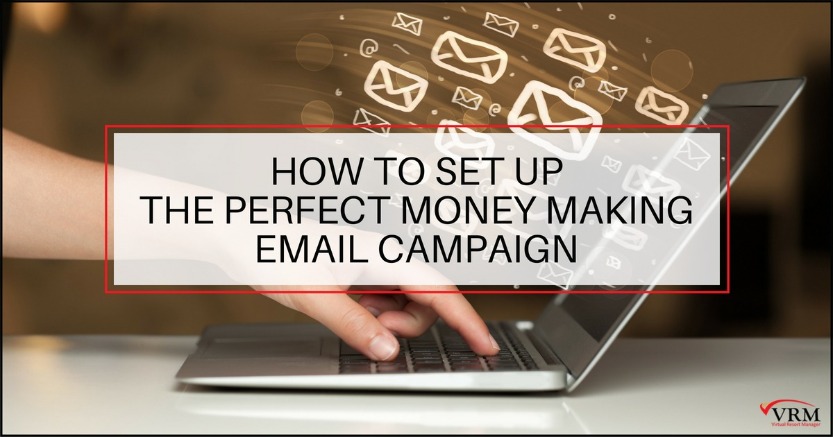 Everyone knows that email marketing is an excellent way to increase your ROI with minimum expense and time. Our vacation rental software has many email function elements built into our program, but you may still opt to use other email services such as Constant Contact or Mail Chimp. No matter how you decide to send your emails, the end goal is always the same. Allow us, your rental property software company, to walk you through the steps to set up a money making email campaign.
Our Marketing Department team has put their heads together and have outlined 10 easy to follow steps to design a custom email campaign that will convert clicks into bookings.
Step One
The first step in building a money making email is to pick your theme or topic. What is the goal of the email (besides making money)? Do you want to advertise your specials? Do you want to offer a discount to repeat guests? Do you have a few homes that need more bookings? Do you have amazing things to do during the Fall in your area and want to invite guests to visit?
Once you have decided on a theme/topic, you need to create a great headline.
Step Two
Creating a fantastic email subject headline is easy when you use a subject line tester. Remember, your subject line is the first thing that people will see in their inbox, and will use that information to determine whether or not they want to open the email. You want your subject line to be short and to the point. Include an emoji if your email platform will allow it.
Step Three
A key element to a great email is your logo. From the very first glance, be clear with the reader about who you are. Be sure that the logo, inserted at the top of your email, is a clickable link that will lead back to your website. Size your logo so that it can be easily read but is not too big.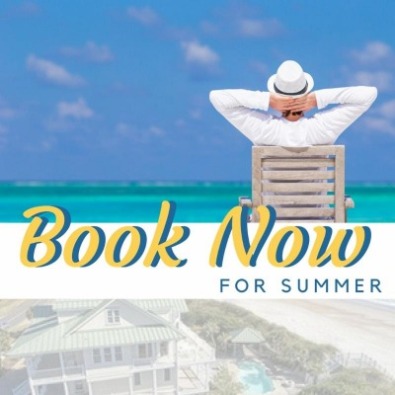 Step Four
Now that you have a great subject line, you are ready to create a custom graphic to go with your email. There are many programs out there that you can use for free to create professional graphics. Canva and PicMonkey are just two of those programs.
If you are a little more advanced in design, Adobe Photo Shop may be a great option for you. Another option for graphics, if you don't have an in-house graphic artists, is to hire a graphic artist on Upwork who can create custom graphics for you.
Your image can be square or rectangle, but it does need to have a headline (needs to have more detail than your subject line). "Get Your Sizzling Hot Summer Deals" is an example of a great headline for an email image.
Be sure the image that you create reflects your brand colors, style, and fonts.
You can insert your image directly below your logo.
Step Five
The next portion of your email is going to be a few lines on text that you will use to keep the guest reading and encouraging them to take action. It may be necessary to use two or three simple paragraphs to get your point across.
Step Six
After your text, insert a button or link that will carry the guest directly to your website. Your link should lead them somewhere specific. If you are advertising your Specials Page, then link to that page. If you are trying to encourage more booking on your larger homes, then link to that web group.
If you need help creating a web group (a way to categorize your properties so that they can be viewed as a group in one link) within the VRM vacation rental software program, we have training materials that can help you with that. Use the VRM Help Center to assist you.
Step Seven
Now is your opportunity to list several specific properties or even web groups with a picture, a short description, and a link.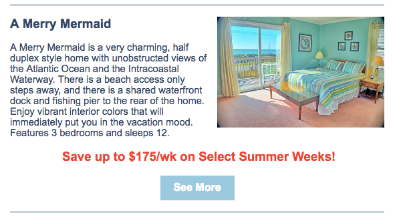 Step Eight
Be sure to include your phone number in the body of your email. This way if someone has questions, it is easy for them to give you a call.
Step Nine
If you are including discounts or special offers, you may need to include a disclaimer in your email. Be sure to asterisk the offer, and then asterisk the disclaimer at the bottom of the page. Some items that you may want to include in the disclaimer could be: applies to new bookings only, limited time offer, black-out dates may apply, some exclusions may apply, etc.
Step Ten
Now that the body of your email is complete, it is time to send. Take time to be sure that you have a solid email list of qualified email addresses. Your VRM Admin Console is a great place to start. You can pull a list of previous guests from Guest Reports. After all, your previous guests are the perfect people to target market!
You Are Ready to Send!
Here are a few additional tips from your VRM Marketing Team:
-only send one email per week to the same email address
-send emails Tuesday/Thursday mornings or Saturday afternoon
-have someone proof read your email
-send yourself a test email to preview
-check your email in mobile view
-double check the "sent from" and "reply to" email address on your email
Before you start building your email, you will need to gather several pieces of information. Here is a FREE PDF checklist of the things that you will need to create a fabulous email campaign that converts.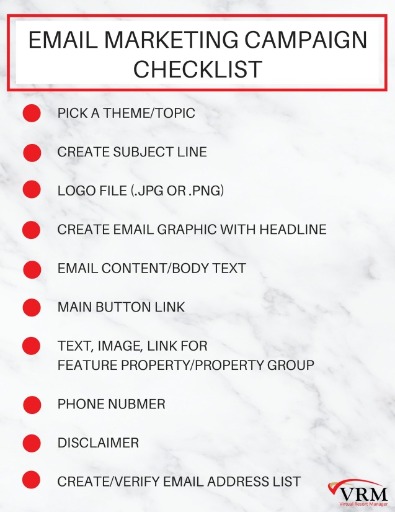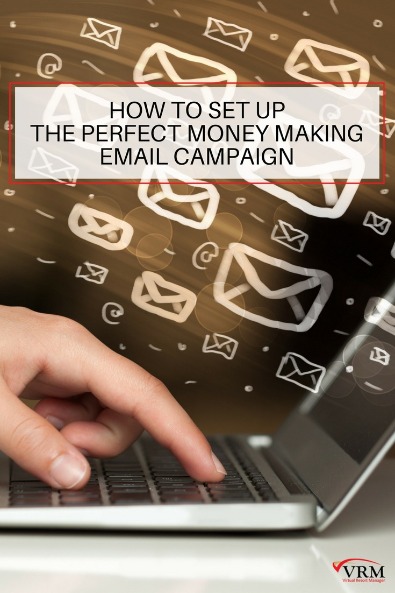 Save this valuable article to read later!
Don't have time to manager your own email? Contact us today to learn more about VRM Marketing services, including email marketing.
Comment on this post!