---
Employee Spotlight: Meet Connie Hutchins
Posted On Thursday, January 4, 2018
---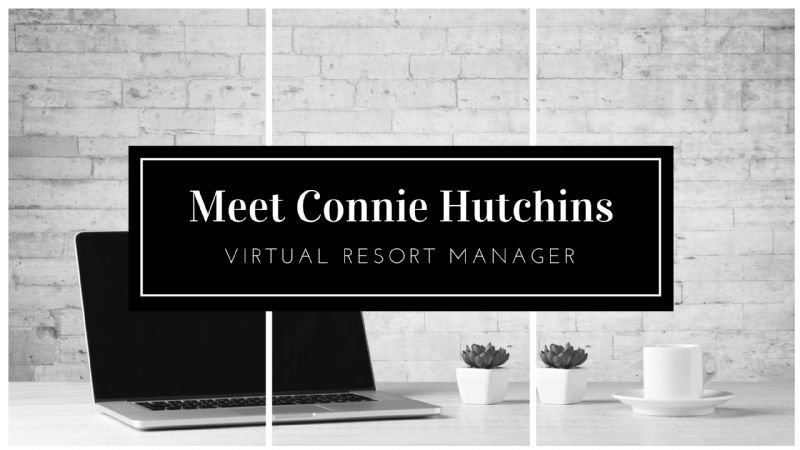 The Faces Behind Virtual Resort Manager
As a company, Virtual Resort Manger (VRM) has the privilege of serving over 100 software clients and 17 marketing clients. Because of the virtual space in which our vacation management software business operates, many of our employees and clients never come face to face. Email, tele-conferences, virtual meetings, phone calls, help tickets...these are all a part of our daily operations at VRM. This keeps most of our vacation rental management clients from getting to know our staff.
As a team, we decided that it would be a great idea to offer a monthly "Employee Spotlight" Blog, where you get to put a face with a name. It also gives you a chance to learn a little bit more about the people behind VRM, and hear a few details about their life and work.
Meet Connie Hutchins, Online Marketing Manager
With VRM since the very beginning, Connie Hutchins is a company mainstay. She plays a crucial role at VRM as the Online Marketing Manager, and has a wonderful working relationships with our clients. She is a vital part of the process for new clients, and she is also essential to the longevity and success of long-term client accounts. A lot of her work is done behind the scenes. However, she also spends countless hours meeting with clients to make their website and marketing needs a reality.
Connie's patient and can-do attitude makes her a pleasure to work with. Since her role overlaps into several departments, she is passionate about seeing everyone at VRM operate as a team as we offer the best software, customer service and marketing to our clients. Over the years, Connie has seen many changes at VRM. She is especially proud of how the VRM team has transitioned into the world of tele-commuting. It is a challenge when a team is spread across the country, but Connie has worked hard to create a work environment that puts a high value on family and communication.
Be sure to take few minutes and watch the video below about Connie Hutchins. This is a great time to put a face with a name, and to get to know Connie on a more personal level. Discover a little bit about her family and a few of her hobbies!!
A Word About Connie
We wanted to let you hear about Connie from someone who has worked with her for many years. Brittany Thompson has worked with Connie in the Marketing Department for over 8 years. The longevity of this team is a testimony to the VRM family, of which Connie is a matriarch.
Connie was the first person I ever worked with at VRM. She has literally taught me most everything I know at VRM, and if it hadn't been for her I would not be where I am today. I love working with her. She is always family focused, and has a really big heart!
Brittany Thompson, Marketing Deparment
We Invite You to Meet The VRM Team
Be sure to tune in the first week of every month, as we feature our VRM VIP's! From the team leaders, to the training department, to the bloggers...get to know our amazing team of dedicated employees! We are excited to get to know you, our wonderful clients, as well.
Comment on this post!