---
A Behind the Scenes Look at Blogging and Why it Works
Posted On Friday, October 5, 2018
---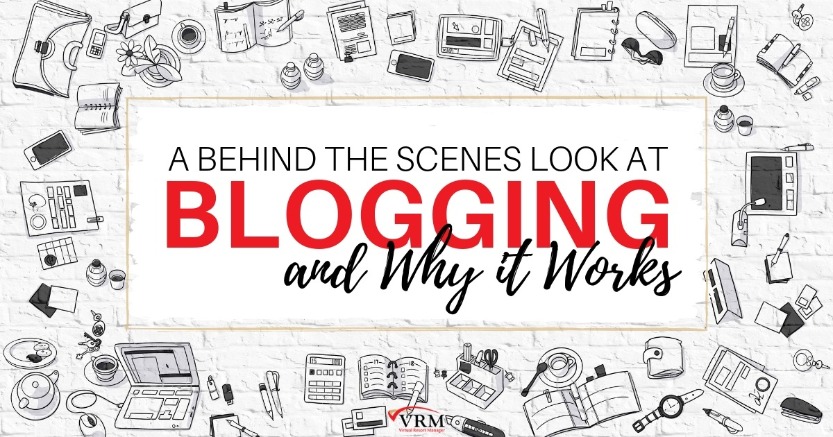 Continuing in our marketing series, we are turning our attention to blogging. Some of you may already have years worths of amazing blog content while others are scratching their heads and asking "what exactly is a blog?". In an attempt to go beyond our vacation rental software updates and information, over the next few weeks we are focusing on Virtual Resort Manager's amazing Marketing Department... and how we can help your business.
Grab a glass of iced tea or a hot cup of coffee, and join us as we give you a behind the scenes look at blogging and why it will work for you.
If you didn't catch Part 1 of our marketing series, you can find SEO explained by clicking here.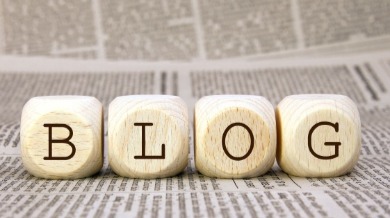 What is a Blog?
According to firstsiteguide.com, "a (shortening of "weblog") is an online journal or informational website displaying information in the reverse chronological order, with latest posts appearing first. It is a platform where a writer or even a group of writers share their views on an individual subject."
You can host a blog as a webpage on your website, and it will consist of individual blog posts that vary in topics. Being in the travel and tourism industry, there is no shortage of excellent content for you to share on a blog.
Over the last decade or so, the world of blogging has come a long way. Today, for vacation rental management companies and many other businesses, blogs have become an excellent way of communicating valuable information to guests and potential guests. It is also a quintessential marketing tool.
If you have a website that is built and managed by VRM, adding a blog page is as easy as sending an email. To add the blog functionality, simply send in a help ticket. The blog functionality is included in all CMS's since 2014, and there is no charge to set it up or "turn it on". We are happy to do it. We can also add the blog roll to your home page upon request, which is an easy way to keep the home page content fresh if you are blogging regularly.
Content and Consistency Are King
Once you have decided to add a blog to your website, the question becomes: who is going to write the blogs, what are you going to write about, what is your blogging "voice", are blogs going to be posted consistently, and how to keep content fresh and on schedule?
You are going to need someone on your team that can devote time to blog writing and posting. They need to have a good understanding of what it takes to create a good blog post, including SEO and great graphics (more on that in a moment). If you don't have someone in your office that can take on the role of blogger, then you need to contact the VRM Marketing Team. We would be delighted to join forces, offering you an entire team of marketing professionals... from bloggers to SEO experts.
Now that you have worked out "who" is going to be writing your blog posts, you need to establish the "how". What is the tone, voice, and message that you want to convey to your audience. Your blog is an extension of your business. It's tone and voice should reflect your company's values, character, and personality. Another way to think about it is to be sure that your blog is on brand.
We have covered "who" and "how", and now it is time to talk about "what" and "when". Establishing a working list of blog topics and curating a blog post schedule is a great way to get your whole team involved. Being in the vacation industry, you can ask yourself and your office staff, "What would I like to know if I were going on vacation to this area?". It won't take long before you have a seemingly endless list of amazing blog topics. You can also think seasonally, so that you post relevant information at the right time.
Lastly, one of the the most important factors when it comes to blogging is consistency. If you are inconsistent with your approach to blogging, you will have inconsistent traffic and sales from your efforts. It is vital to keep your audience engaged. If you can not commit to posting once a week, then consider every other week. Write your outlines in advance in order to make posts easier to write on short notice. You can also try to open a whole day each month, simply to write your next month's posts.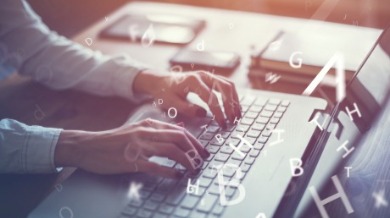 Why Vacation Rental Companies Need a Blog
One of the best things about a blog is that it is an excellent and low cost tool to communicate with your guests and potential guests. Blogging should be a foundational piece in your marketing strategy, with the ability to reach a very large audience. You get to tell the whole world how amazing your area is.
Social Media Marketing is just one way to get your blog posts in front of a lot of people.
One of the hardest parts of social media is consistently creating and sharing great content that will not only increase your engagement, but also keep your customers coming to your website. Blogging is a wonderful way to drive traffic to your website. Pinterest is a fabulous traffic driver and research tool for social media. Its helps you see what your audience wants so you can give them the content they are looking for... and get people onto your website.
Speaking of websites, did you know that Google LOVES to see fresh and consistent content added to your site? Great blogging is a way to increase your ranking with Google and to help potential guests find you on the web. Blog posts should include keywords, which will help with Search Engine Optimization.
Here is an excellent example of a blog post, developed for one of our VRM Marketing clients, that has been a strong performer for two and half years. This is a great representation of quality writing, SEO, keyword use, good graphics, and a topic that has driven a ton of traffic to this client's website.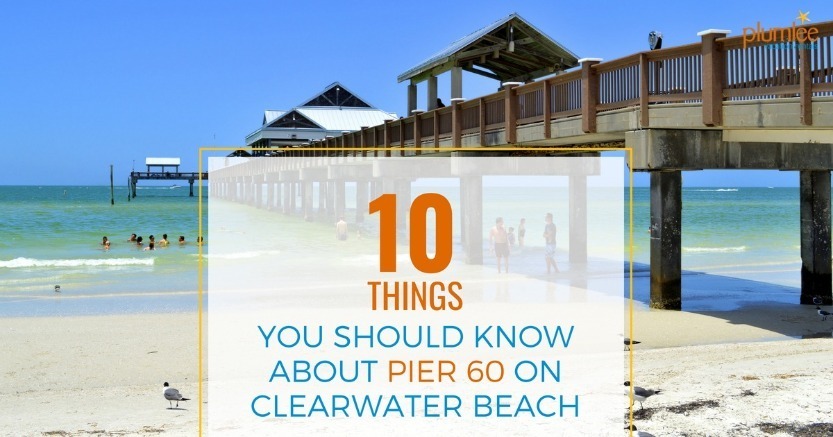 The Importance of Great Graphics
Graphics are vital to a good blog post strategy, You need to ensure that they are colorful and attention grabbing, properly sized for social media sharing, as well as branded for your website and have your logo on them. Images are the largest part of getting clicks to your blog and getting readers to take notice of them.

In a world of fast-paced, never-ending social media timelines, blog posts that are visually pleasing are essential. Not only do they have a higher chance of attracting potential customers while they're scrolling, they tend to create an instant emotional connection. This can lead someone to your site and not only keep them there, but get them to come back and become a regular reader and/or customer.

The last time you were on Pinterest or Facebook, what kind of graphic made you stop scrolling and click?
Along with an enticing headline, well-designed blog graphics may be the most important component in helping to format a blog post that encourages a reader to dive into the text, which hopefully, if it's well-written, will hold their attention. In turn, it may get them to explore the rest of your website and what you have to offer.

According to one study, you have less than a second (50 milliseconds to be exact!) to grab and hold the attention of a visitor. First impressions really do matter!

Images are extremely important when structuring a blog post to greet potential customers. Experienced bloggers understand that a wall of text is the quickest way to overwhelm a reader and lead them to clicking on the nearest exit. Don't lose out on a valuable connection. Remember, a picture is worth a thousand words.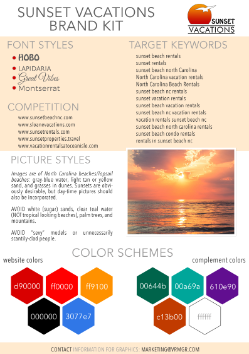 Do You Need a Brand Kit?
The answer to this question is very simple. Yes! Your business needs a brand kit (sometimes called a marketing kit) that defines your "brand".
For our marketing clients here at VRM, we create customized brand kits tailored to your vacation rental company's brand and needs. Not only do they include target keywords and your top competitors to assist with blogging, but we capture your company's overall feel by choosing fonts, colors schemes, and image styles that will propel your company forward.
Every image that is chosen or created for your blog posts are based off that kit. Our goal is for your potential or longtime customers to see an image and immediately recognize that it was created by your company, thus keeping you on their mind.
This is how blogging can help you to build brand recognition, as well as growing a trusting relationship with your audience.

Promoting Your Blog Posts
On average, you are going to want to post your blogs to Facebook, Pinterest, Twitter, and Instagram on a weekly basis. If you can work it into your schedule, try and get them posted twice a week.
Another wonderful thing about blogging is that you are creating articles that can be used over and over again. Don't be afraid to post an older article that is still relevant to your social media accounts.

Your reservationist can also use blog posts to answer questions from guests. A "Frequently Asked Questions" blog post to save a lot of typing and response time. Adding links to specific blog posts in your Welcome Packet is also a great idea.
Email Marketing (another service offered by the VRM Marketing Department) is an excellent platform to promote your blogs and to get traffic to your website. An individual on your email list may not be ready to look at vacation properties yet, but they might click on an article about "Planning a Budget Friendly Vacation" or "Tips for Traveling and Vacationing with Toddlers".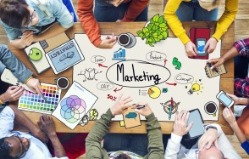 VRM Blogging Services
If you would like more information about our VRM blogging services, please email us at m[email protected]. We would be happy to give you a quote.
When you allow us to become part of your marketing team, you get access to some of the best marketers in the business... exclusive for VRM vacation rental software clients.
See why blogging works!
Let us take you on a tour.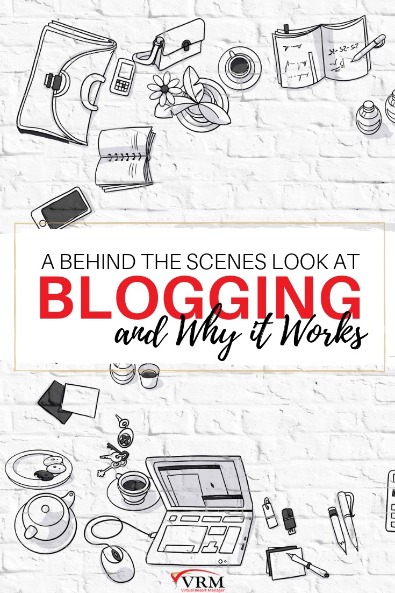 Comment on this post!