Tea With Brittany Lea Recap: Welcome Home- Keeping Guests Happy with Minimal Effort
Posted On Friday, March 11, 2016
---
If you missed it... Yesterday's webinar was full of fun with Mike Mueller (the newest member of the Virtual Resort Manager Team). He talked all about welcome home Lite and Welcome Home Complete and how you can use some of the automated features to make your life so much easier. The best part? EVERYONE has access to Welcome Home Lite! That's right... You can get this feature right in your VRM console and start using it TODAY! What Fun! For those of you that we re busy working or making vacation dreams come true we applaud you and offer this awesome recap recording to help you on your way! Also if you were there and you just wanted to check out the slide deck it is right below the video!!
Thanks to Everyone that Watched along with me yesterday, it has been so fun getting to have this adventure with you all!
Check out the Full Recap:
Check out the slides: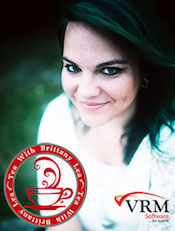 Happy Sipping!

~ Brittany Thompson
Social Marketing and Media Manager at VRM, Brittany has been with VRM since 2010. She has helped dozens of clients market effectively using social media, blogging, email marketing, and online advertising. She presented at the Annual VRMA show in 2014 and is now the host of a popular monthly webisode "Tea with Brittany Lea". Join her next webinar: http://bit.ly/TeaWithBrittanyLea
Comment on this post!