Tea with Brittany Lea Recap November 2015
Posted On Friday, November 13, 2015
---
Some good Luck for Friday the 13th... The Tea with Brittany Lea Recap is Here!
Thank you to everyone who tuned in yesterday, we had such a great time talking with Connie Hutchins yesterday about "5 Easy things you can do to rank better NOW." Connie gave us some awesome tips on how to use VRM's exclusive webgroup functionality to actually help marketing groups of properties and rank for some awesome search terms, she talked about using title tags and meta description tags, and she even covered how to properly set up content on your website. So if you want to watch the full webinar just click the link below! We also have our very exciting
slide deck
for your viewing pleasure as well!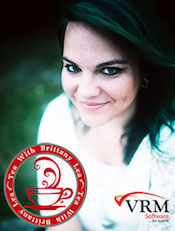 Happy Sipping!

~ Brittany Thompson
Social Marketing and Media Manager at VRM, Brittany has been with VRM since 2010. She has helped dozens of clients market effectively using social media, blogging, email marketing, and online advertising. She presented at the Annual VRMA show in 2014 and is now the host of a popular monthly webisode "Tea with Brittany Lea". Join her next webinar: http://bit.ly/TeaWithBrittanyLea
Comment on this post!