How to Make Sure Homeowners ALWAYS choose YOU
Posted On Friday, February 12, 2016
---
I have always personally thought that rental managers are to be revered for what they do. Vacation rental managers have the hardest jobs of all, in my honest opinion. Rental managers not only deal with the logistics of every day things that can go wrong in the numerous properties you manage, the needs of an ever growing clientele, marketing strategies, and staffing to name a few but today's rental managers also have to manage homeowner relationships which can get tenuous. Maureen talked to us all about her famous secrets to building relationships that last and are profitable for you and your homeowners. Let's face it it does no one any good if your properties stay unrented because of updates that need to be made and are not prioritized, or because you over price a home at a homeowners behest. Maureen talked about how rental managers can navigate these tricky waters and still maintain a good relationship. If you did miss yesterday, we understand, you were probably off wearing your vacation saving cape and bringing some vacationer joy in the word somewhere. (We won't argue if you want to send us a detailed email about all your life saving adventures!) However, if you want to check out the recap below as well, it will almost be like you had the ability to be in two places at one (which is also totally awesome)! Happy Watching!
Watch the Tea with Brittany Lea Recap Below: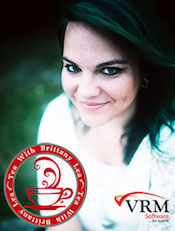 Happy Learning!

~ Brittany Thompson
Social Marketing and Media Manager at VRM, Brittany has been with VRM since 2010. She has helped dozens of clients market effectively using social media, blogging, email marketing, and online advertising. She presented at the Annual VRMA show in 2014 and is now the host of a popular monthly webisode "Tea with Brittany Lea". Join her next webinar: http://bit.ly/TeaWithBrittanyLea
Comment on this post!