How to Know That Virtual Resort Manager May Not Be for You
Posted On Friday, July 21, 2017
---
We understand that not EVERYONE would think that Virtual Resort Manager is the best vacation management software system for their business. After all, not everyone would like stellar customer service and leading industry technology. Right?!?
Take a moment, and see if Virtual Resort Manger is the correct fit for you. You may not be our ideal client if you aren't interested in....
1. Unparalleled Personal Support
We take great pride in being known throughout the vacation management industry for having stellar customer support. Our friendly professionals make it their business to give our clients the BEST customer support!! Click here, and see what others have to say about our customer service.
2. Rock Solid Accounting
Virtual Resort Manager's accounting software is comprehensive and cutting edge. Our program developers are constantly working to provide the #1 accounting software in the business, and to provide consistent updates to meet our clients needs.
3. Access to On-Demand Training
Our training team works with new clients, step by step, through the entire installation process. They are available to our clients when needed. However, we also have great on-demand training, that helps our clients when they need a "refresher" course, or when they want to learn a new aspect of the Virtual Resort Manager system.
4. FREE Tools Every Year
Our team is dedicated to providing new tools for our clients. On a regular basis, the developers here at Virtual Resort Manager are launching up-to-date tools that will make our client's businesses easier and more efficient.
5. Access to a World-Class Marketing Team
Have you had the opportunity to meet our marketing team? We have industry marketing experts on our staff, who can manage everything from optimizing your website to creating rock-solid social media content. From blogging, to SEO, to reputation management, to amazing graphic design...we have your online marketing needs covered. We even do email marketing!
6. All-in-One Software System
What do we mean by all-in-one? It's simple. Here at Virtual Resort Manager, we have created a system that can serve all of your vacation management software needs. Our system is also fully integrated, while still allowing you to pick and choose options that fit your needs.
7. Free Monthly Webinars with Industry Experts and Our Knowledgable Staff
As an added bonus to our clients, we offer FREE monthly webinars! Our webinar series, titled Tea with Brittany Lea, is a place for our clients to log-in and hear first hand information from industry experts. This is the place to get the latest updates from Virtual Resort Manager, or hear creative ideas to industry issues. You are welcome to browse through our Tea with Brittany Lea archive...and see the excellence for yourself.
If you are ready to see how Virtual Resort Manager can make a difference in your vacation management business, then it's time to give us call. Our team would be delighted to talk through your software needs, and answer any questions that you may have.
Give us a call today at (866) 849-0817.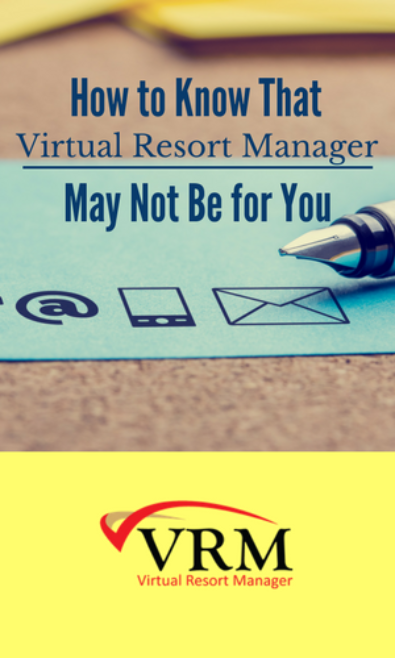 Connect with Virtual Resort Manager
Comment on this post!