5 Reasons You Need CoSchedule in Your Life
Posted On Friday, February 03, 2017
---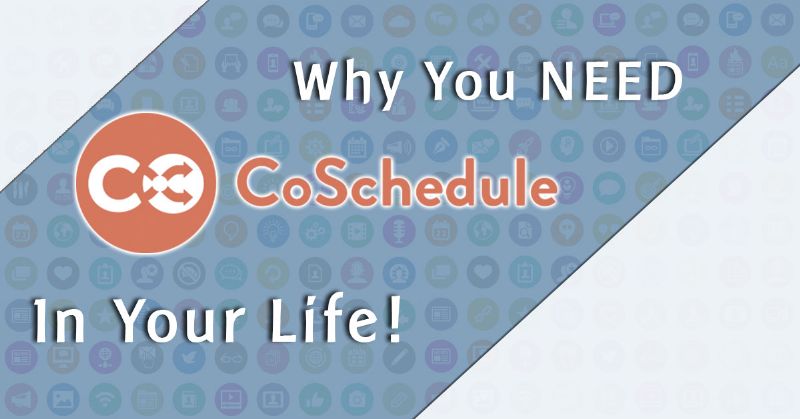 In today's fast past marketing world, it can be an overwhelming task for business owners to keep track of their social media marketing. After all, you are an expert in your industry…not social media. And most people don't have the time or resources to learn an entire new industry just to better market their business. Would you like to save time, get more organized, and publish social media marketing content more consistently? Then let us introduce you to
CoSchedule
.

CoSchedule is the #1 marketing calendar to help you organize all you online marketing needs. If you send emails, have a blog, host webinars or share e-books, then CoSchedule is for you. It allows you to see all your marketing in ONE place. You can use CoSchedule for Content Marketing, Social Media Marketing, Marketing Project, Blog Management and more.
Trusted by some of the world's top bloggers and social media experts, CoSchedule can revolutionize the way that you market your business. In an effect to help you understand this program a little better, we have put together our top 5 reasons why you need CoSchedule in your life. Are you ready to consolidate your entire marketing strategy?

How to Keep Your Team in Sync

Chances are, your business is not a one-man show, but rather a team of individuals working together. When responsibilities are shared, there is always room for miscommunication and mismanagement. Wouldn't it be great if there was a tool that would keep all your team members on the same social marketing page? CoSchedule makes workflow management easy. You are able to assign specific tasks to team members, and receive instant notification when assigned tasks have been completed. You stay in the loop. There is also a comment function that allows team members to communicate, making project execution easy. You can also integrate with your team's favorite tools, such as Evernote or Google Docs. When content is created in these platforms, they can be instantly synced with your CoSchedule calendar!
Keep your whole team organized, with clear deadlines and simple communication.

A Check List That You Will Be Excited About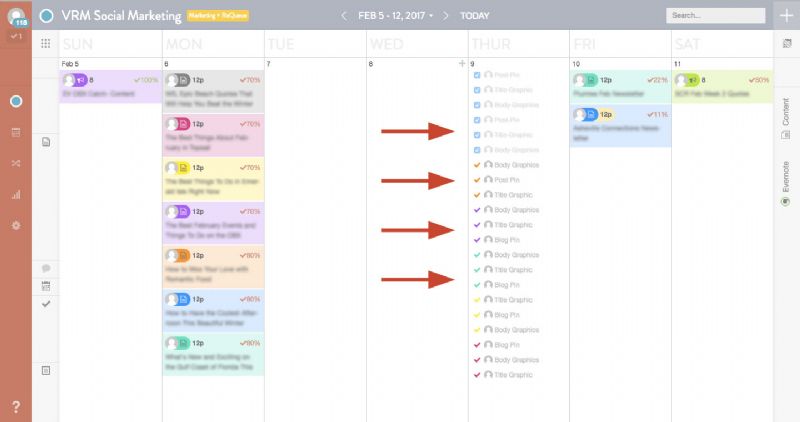 "I didn't know it was my responsibility to do that." Have you ever heard that excuse? When managing people, assigning tasks and having employees take responsibility is full-time job.
What if you could create customized checklist template for your project workflow? Keep everyone on task and on time, eliminate mistakes, and keep projects moving forward with reusable templates. For example, if you have a team working on social media content, you can assign specific tasks to different people and indicate a "due by" date.
No more missed deadlines, and everyone stays on the same page with comments, tasks, and content. The same checklist template can be updated and reused again and again.

Design a Social Schedule You Can Be Proud Of
It's time to plan, promote, and execute your entire social strategy in ONE place. CoSchedule can take your Social Media Marketing Calendar to a whole new level. Plan months of content at a time, with the drag and drop calendar.
Since you will have a bird's eye view of your social scheduling, it is easy to fill in any holes in your campaign. Save time, and get peace of mind with CoSchedule. Everyone knows that a solid marketing schedule is essential to effective content and social promotion.

Learn How to Automate Your Social Media

Are you ready for ReQueue?? CoSchedule has created ReQueue, the ONLY data-driven intelligence tool for social automation. This state of the art technology gives you the ability to automatically re-share and broadcast your best content across every major social network.
Watch as your evergreen content is put on auto-pilot. Of course, you will want to keep an eye on all of your Social Media analytics…and CoSchedule makes that easy and user friendly.

Plan Killer Content That Will Drive-In Business
There is a whole lot more to planning content for marketing than simply writing it. You need to have the right headlines, quality and searchable text, and a consistent publishing plan.
CoSchedule has a built in headline analyzer that will give you a graded result. This will help you to craft the perfect headline to reach your target market.
You will also be able to publish your posts at the best time, every time. "Best Time Scheduling" is another tool, designed for you to schedule your social media messages at the optimal and ideal time for social engagement.
Perhaps one of the best aspects of CoSchedule is schedule your social messages in bulk. Create ONE message, and use a pre-made template to automatically schedule it to hit your choice of social media outlets. One message + one template = Endless possibilities! Reuse that template over and over again, and customize new template to fit your designed campaign.

It's Time to Say Yes to CoSchedule

When you are ready to say yes to getting organized and saving time, then we have great news! You can try
CoSchedule
for FREE!! It's simple. All you have to do is decide which CoSchedule plan best fits your needs, starting at just $30 per month. But no matter which plan you choose, you will receive a FREE 14-day trail.
It is time for you to decide whether or not you agree with the experts…that you need
CoSchedule
in your life!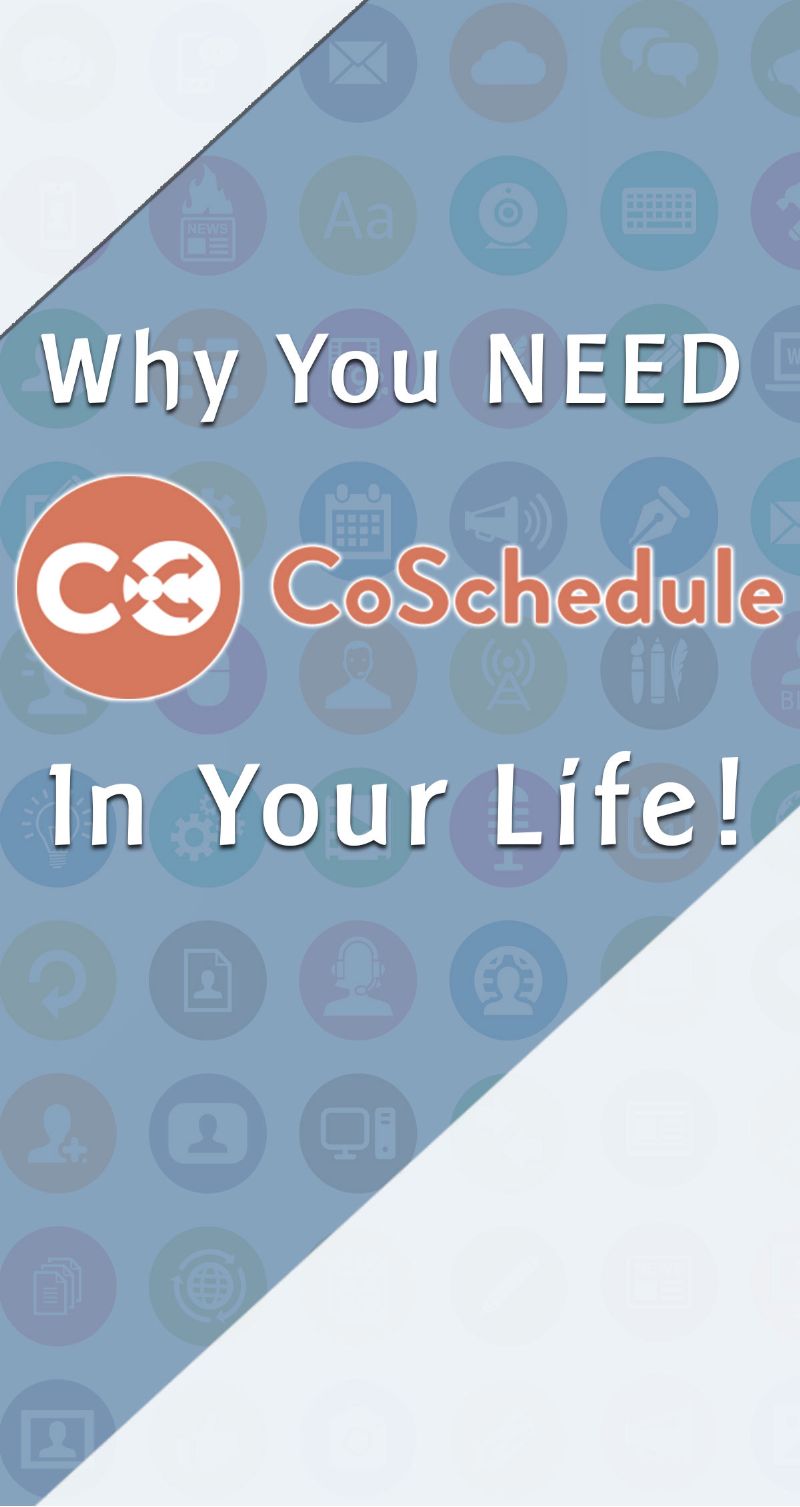 Comment on this post!