Market Your Vacation Rentals
Virtual Resort Manager provides a complete and fully integrated Vacation Rental Management solution for companies of virtually any size. Based on our Rock-Solid accounting back end, the system is both user-friendly and intuitive, and provides all of the functionality you need to efficiently manage your vacation rental management business.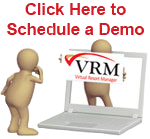 The VRM Book Easy website is user tested making reservations a snap. It has a customizable format allowing your website to main your unique look.
The unique integrated database construction of the VRM system makes online booking a smooth and effortless matter. With VRM, the system instantly recognizes all changes in property configuration, assuring that all information is up-to-the-minute, and all reservation activity is recorded accurately and in real time.
Many enhanced web functionality features are available including shopping carts, on-line chat, blogs and the VRM forum. We offer a web content management system allowing you to easily control the content on your site and VRM's exclusive web groups that allow you to arrange your properties in many different ways.
Our search engine marketing services such as search engine optimization, Google analytics, conversion tracking, pay per click management and social networking.
Channel Partners include Home Away, Vamoose, Find Rentals and more. And we offer travel agent websites that can be branded or unbranded.
The customer resource management tools make keeping in touch and managing your reservations easier with automated reservation status emails, email blasts by selected criteria, and emailing direct to owners. VRM's member loyalty program based on reward points, allows you to easily reward your best customers.
We don't just build websites or software, we build relationships. We are a small company with great software and personal service. Call us today or use the form to contact us and for an on-line demo.